In Memory Of

Benoit, H. Lola who passed away on 7/1/2018 at the age of 97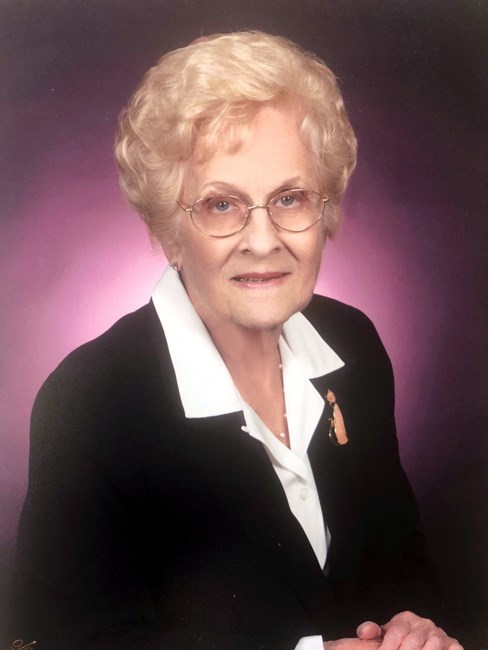 Lola Benoit (Jackson) passed away peacefully at home on Sunday, July 1, 2018 at the age of 97. She was born to Frank and Josephine Jackson on September 16, 1920 on a farm in Cowley County, Kansas, and she was the youngest and last surviving of 10 children.
She was raised on a farm outside Udall, Kansas and graduated from high school in a nearby town. She then got her nursing credentials in Kansas and enlisted in the Navy in 1943. This brought her to California and then a tour of duty in the South Pacific, including Guadalcanal in the Solomon Islands and Noumea, New Caledonia. Lola became a lieutenant, and along with the other 49 original nurses in the South Pacific, she introduced penicillin to the islands during WWII.. She had so many colorful stories to tell about her time aboard ships and the adventures she had while she was in the Navy, which are now recorded in the National Archives!
Lola met the love of her life, Shirley Benoit, after the war. They married on June 3, 1948 and moved to San Diego where they raised 4 children, Vickie, Gary, Mike and Cindy. The family spent summers traveling all over the U.S. but mainly to state and national parks as they both loved the outdoors. After Shirley passed away suddenly in 1973, Lola continued her travels expanding them to include many countries abroad.
Lola continued her nursing career for 45 years, received her Master's Degree in Human Behavior, then retired in 1987 after 23 years as a school nurse in the San Diego Unified School District, where she received a prestigious award for saving a student's life. After retiring, she still led a very active life as a member of the Retired Senior Volunteer Program with the San Diego Police Department, the American Legion, National and State Navy Nurse Corps, Veteran of Foreign Wars, San Diego Bowling Association and the San Diego Women's Bowling Association 500 Club. Many years of bowling kept her in close touch with 2 of her sisters who lived in other states, as they bowled on a national league well into her 80's. Lola will be missed by all her knew her! She was a "force to be reckoned with", while always having a kind heart and a caring soul…
Lola is survived by her 4 children, Vickie L. Benoit, Gary L. Benoit, Mike D.Benoit and Cindy S. Benoit; her 6 grandchildren, Betina Zlotlow, Ikaika Chung, Matt Benoit, Cherin Whitaker, Michelle Benoit, Dan Benoit; and 2 great grandchildren, Kailani Chung and Hunter Whitaker; a special nephew Larry Robb, along with several other nieces and nephews throughout the U.S.
Lola's ashes were scattered at sea in the blue Pacific Ocean off Point Loma honoring her wishes and spirit. Death takes the body. God takes the soul. Our mind holds the memories. Our heart keeps the love. Our faith lets us know we will meet again!
As a cancer survivor, in lieu of flowers, donations may be made in memory of Lola Benoit to: American Cancer Society 5333 Mission Center Rd. Ste. 105 San Diego, CA 92108 www.cancer.org 1-800-227-2345