In Memory Of

Derbabian, Debra Ann who passed away on 3/30/2019 at the age of 60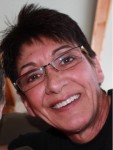 Debra "Fishing Deb" Derbabian, March 30, 2019, Age 60.
Loving sister of Dr. David A. (Dr. Michelle A. McLanahan) Derbabian, Tina M. (Dave) Mehlberg and Michael (Robyn) Derbabian. Beloved aunt of Annie, Emma, Jacob, Joshua, Zosia, Greta, Henry and Marlena.
Deb was especially proud of her service to "God & Country" as an officer in the Navy Nurse Corp. After her retirement, she moved to Houghton Lake, and enjoyed all outdoor sports and participated in many activities. She took the nickname of "Fishing Deb", which she was especially proud of. Above all, Deb had a "servant's heart" especially in the care of her mother, whom she cared for with a love that only a daughter could give.
Family will receive friends Saturday 12 noon until the Memorial Service at 3 p.m. at A. J. Desmond & Sons Funeral Home (Price Chapel), 3725 Rochester Road (between Big Beaver and Wattles) Troy, 248-689-0700.