In Memory Of

Becktell, Beatrice Diane who passed away on 11/24/2014 at the age of 78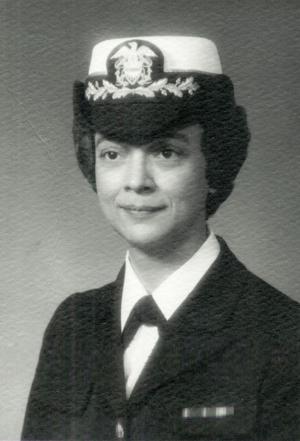 Beatrice Diane Becktell, USN Retired, 78, of Fort Atkinson, died Monday, Nov. 24, 2014, at Fairhaven in Whitewater.
She was born April 21, 1936, in the Town of Oakland, the daughter of Raymond and Alma (Traugott) Becktell.
Diane graduated from Fort Atkinson High School and received her nursing diploma from Methodist Hospital in Madison in 1958.
She began her professional career as an operating room nurse at Fort Memorial Hospital. On March 2, 1961, she was appointed Ensign in the Navy Nurse Corps and reported to Women Officers Indoctrination School in Newport, R.I.
Following tours of duty as a staff nurse at Naval Hospitals in San Diego and Great Lakes, she was selected for Duty Under Instruction at the University of Pittsburgh. Diane received her bachelor of science degree in 1966, and then was assigned as a Charge Nurse at U.S. Naval Hospital, Guam, from September 1966 to March 1968.
Captain Becktell reported for duty as an Instructor at Hospital Corps School Great Lakes in April 1968. She subsequently was assigned to the University of Iowa, Iowa City, Iowa, where, in 1971, she received her master of arts degree in nursing service administration. Her next assignment was as educational coordinator at Naval Regional Medical Center in Jacksonville, Fla.
In June 1975, she reported to the Bureau of Naval Personnel and assumed the duties of Nurse Corps Liaison Officer. While assigned to Naval Aerospace and Regional Medical Center in Pensacola, Fla., from 1978 to 1981, she served as patient care coordinator and as assistant director, nursing service. She then was transferred to U.S. Naval Hospital, Guam,for duty as director, nursing service.
In recognition of her community service, she was awarded the Ancient Order of Chammori by the Governor of Guam in May 1983. On June 3, 1983, Captain Becktell assumed duty as deputy commander/chief of staff of the newly established Naval Medical Command, Southeast Region.
Captain Becktell was promoted to her present rank in September 1982. Captain Becktell is authorized to wear the Meritorious Medal, Naval Commendation Medal, Navy Unit Commendation, and National Defense Service Medal.
Diane retired in January 1985 and returned to Fort Atkinson in 1989 where she enjoyed gardening, sewing and reading. She was a member of the Retired Officer Association, Navy Nurse Corps Association and Friends of the Library.
She is survived by four cousins, Greg (Lou Stark Schwemmer) Schwemmer of Fort Atkinson, David (Yvonne) Carl of Jefferson, Betty (Robert) Burr of Colorado and Madeline Sutter of North Carolina.
Diane was preceded in death by her parents; sister, Phyllis Powers; brother-in-law, James Powers; and nephew, Patrick.
A memorial service will be held at 11 a.m. on Friday, Dec. 5, at the Nitardy Funeral Home, 1008 Madison Ave. in Fort Atkinson, with the Rev. Russell Frees Jr. officiating.
Those planning an expression of sympathy may wish to consider a memorial in Diane's name to Rainbow Hospice Care.
The family would like to thank Dr. Ken Kidd and the entire Fairhaven staff for their kind and compassionate care of Diane.